Silvia Luraschi (Adult Educator & Independent researcher collaborator, University of Milano Bicocca) and
Tom Troppe (PhD Student, Canterbury Christ Church University
Buddyscapes documents a relationship which originated in the annual meeting of the Life History and Biography Network (LHBN) of the European Society for Research on the Education of Adults (ESREA) convened at the University of Lower Silesia at Wroclaw, Poland, 3-6 March 2022. This meeting was established as a 'hybrid' event: delegates could participate on-site or online. Following on the previous year's event, which was limited to online participation due to the ongoing covid-19 pandemic, this hybridity opened up an opportunity for inquiry. Given that the theme of the conference was 'Encountering the other: biographies, spaces and relationships in adult education,' there was, perhaps, a heightened sensitivity to the possibility that the hybrid environment could potentially create such different experiences of the event as to become a kind of othering. An announcement was made at a break: onsite participants could be assigned a buddy from among online colleagues and vice versa. As we recall it, the objective was to help online delegates experience some of the conviviality we were experiencing in Wroclaw and, of course, to help those on-site to benefit from a fuller experience of online delegates' presence. That evening at 20:16, I (Tom) received an email confirming that my buddy would be Silvia. My phone buzzed 5 minutes later, notification of my first message from her:
Hi Tom, I'm Silvia from Milano (buddy system LHBN). Have a great Friday night in Poland!
I responded the following morning with a photo of the art installation by Andrzej Jarodski (2010) outside my hotel:
Good morning, Silvia! …this is the Train to Heaven.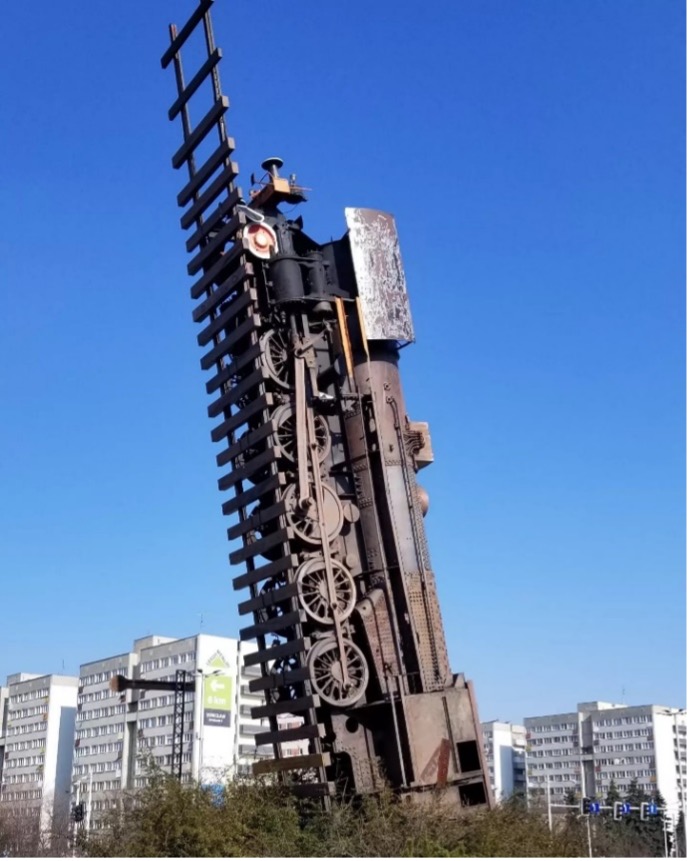 Silvia called it a 'great metaphor of our lives… Hopefully :)' and replied by showed her working environment for the conference.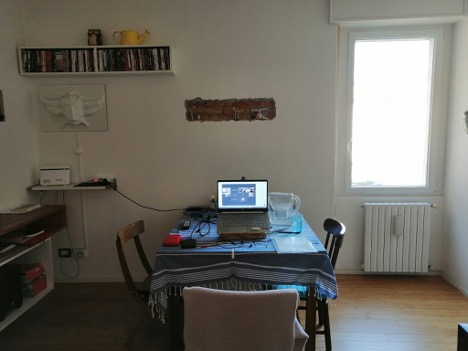 While this buddy system was designed for the days of the conference, there was also the suggestion that it might continue beyond that if we wished. We have so wished, and have continued to share photos over the ensuing months. To date, we have shared messages on 96 of the 268 days between 4 March and 27 November, averaging about one every 3 days. These messages often include photographs, following the pattern established in these first exchanges. During this time, Silvia has shared 197 photos and Tom has shared 173, a quantifiable balance in the dialogue.
As a public replication of this professional exchange, we would like to begin here a series of blog posts in which we share the traces of this dialogue and our interpretations of it, whilst extending to the Network an invitation to join us in this evolving role of buddies. In particular, given the focus of June's network meeting, we are curious to discover how these images and their accompanying texts represent landscapes, timescapes, 'e-scapes', our belonging within and across them, and how this might shed light on our theory and practice as educators.